A malocclusion, or "bad bite," develops when the jaw bones and/or teeth do not come together properly. Malocclusions can cause speech difficulties, inaccessibility of proper hygiene, premature wear of teeth, injury to the teeth and jaw, and reduced aesthetic and function. A bad bite needs to be treated by an orthodontist in order to straighten the teeth and develop optimal health and function.
Anterior Crossbite
In the existence of an anterior crossbite, one or more of the top front teeth fit behind the bottom teeth when the mouth closes, leading to misalignment in the developing jaw, strain on the TMJs, and premature tooth wear.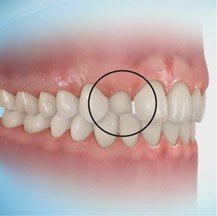 Crowding
Crowding of the teeth occurs when the jaws do not have sufficient room to allow all the teeth to erupt in their proper positions through the gums. The result is often crooked teeth that are difficult to clean, tooth decay, periodontal ("gum") disease, and even tooth loss.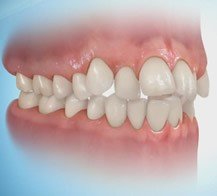 Deep Bite (Excessive Overbite)
A deep bite is the excessive vertical overlap between the upper and lower anterior teeth. This can cause premature tooth wear, lower teeth that bite into the roof of the mouth, and gum tissue inflammation or recession.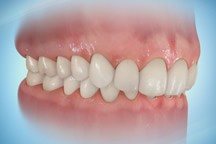 Midline Asymmetry
When the center of the upper and lower front teeth are not lined up, it is typically a sign that the back teeth are not fitting together properly.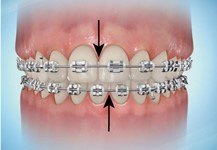 Open Bite
An anterior open bite is when the front teeth do not touch when the back teeth come together, and can affect speech and eating ability and cause excessive wear on the back teeth. Patients with an open bite commonly struggle to bite through or tear food, such as sandwiches. An open bite may develop from tongue thrusting, thumb sucking, or an underlying skeletal (jaw bone) problem.

Posterior Crossbite
A posterior crossbite is when one or more of the top molars or premolars fit inside the bottom teeth, which can cause misalignment in the jaw, strain on the temporomandibular joint (TMJ), or create premature tooth wear.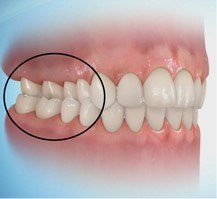 Protrusion of Lower Front Teeth (Negative Overjet)
In this situation, the lower front teeth protrude beyond the upper front teeth because either the lower front teeth or lower jaw is too far forward, the upper front teeth upper jaw are too far back, or both. This condition can cause tooth wear and/or jaw joint (TMJ) problems.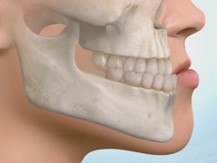 Protrusion of Upper Front Teeth (Excessive Overjet)
Protrusion is the excessive horizontal overlap between top and bottom front teeth, and is typically caused by the upper front teeth or upper jaw being too far forward or the lower front teeth or lower jaw being too far back, or both. This tooth and jaw relationship can occur as a result of tooth fracture or trauma caused by a physical blow to the mouth, or can be an underlying skeletal condition. Protruding teeth can cause abnormal tooth wear and/or TMJ dysfunction.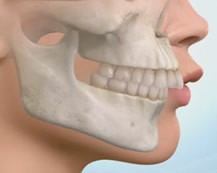 Spacing
Excessive space between adjacent teeth can be caused by oversized jaws, missing or undersized teeth, or a combination of the two. It can lead to speech problems and food impaction.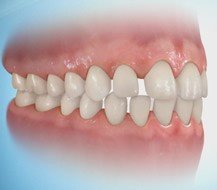 Dr. Galati treats a variety of common orthodontic problems on a daily basis, and invites you to visit our office for a diagnosis and customized treatment. Contact Galati Orthodontics at 480-656-7801 today or come visit us in Scottsdale, Arizona.